How do you know if you created the impact you set out to?
We are currently living in a world where measuring impact is a crucial aspect of all businesses. If we do not invest time in engaging our customers and understanding their needs, it is highly likely that we risk selling a product that has no value or meaning for the customer. Sometimes, it can also result in unintended consequences. This will only undo everything a company sets out to achieve. Hence measursing impact is important. 
In the past few months our team has been brainstorming and working on the means to measure our impact. Inspired by various teachings and in particular by Acumen Academy, we have been able to create an impact model unique to our vision. We dived deep into sustainability and data collection with our team members on the ground and learnt from our previous mistakes.
When measuring impact we learnt that there are three dimensions – breadth, depth and target. Breadth of impact is understanding the scale of our product and its reach, which also means products are not limited to our customer, it can also reach their families and community. Depth of impact is understanding the change your product brings about in a situation, is it good, is it bad. Lastly, target of impact refers to the target customer and who they are. Using these three dimensions we generated an intended impact model for our charging station. We also wanted to see which of the SDGs does our work align with. For more detail on SDGs check out our latest post on instagram (https://www.instagram.com/p/CPaauwgloom/?utm_source=ig_web_button_share_sheet)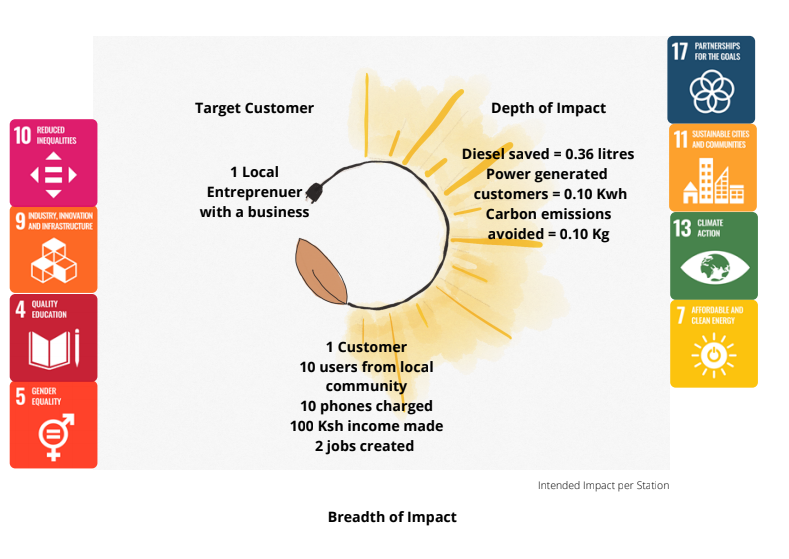 Data collection is an integral part of measuring impact, without engaging customers it can be very hard to know if we are creating the impact we intended to or not. In these past few months we invested in conducting surveys with our customers as a starting step in measuring our impact. Following lean data principles our ground coordinator successfully engaged all of our customers in order to record important findings.
While these months have been filled with learning for us, we are waiting to verify our hypothesis and impact model in our upcoming projects together with our customers!
We hope to share more about our impact in the coming months………….Stay tuned.